Toyota picks Australia to test hydrogen van prototype
Jennifer Dudley-Nicholson |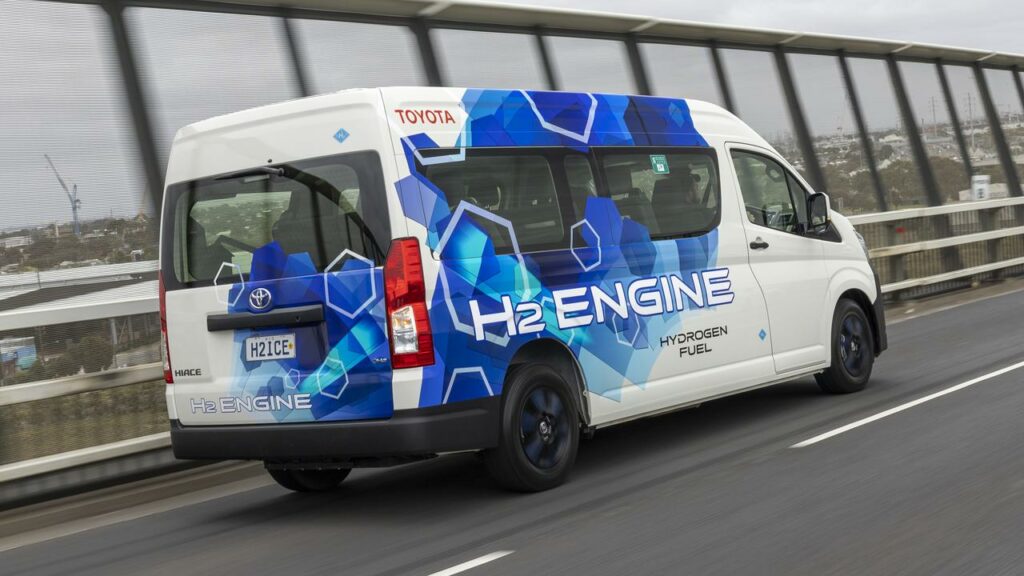 Australia will become a testbed for Toyota's first hydrogen-powered van after the brand's parent company chose the nation as the "perfect place" to test the low-emission technology. 
The Toyota HiAce van prototype, revealed on Saturday, will initially be used by building firm CPB Contractors in Melbourne and will be refuelled at Toyota's hydrogen facility in Altona. 
The van will become one of three hydrogen-powered vehicles tested on Australian roads and the second from Toyota.
The announcement comes after a top Toyota executive said the company still considered electric vehicles "impractical" for most motorists in Australia and follows several government investments in hydrogen production and development. 
Toyota Australia president Matthew Callachor said the hydrogen van had been developed as part of the brand's commitment to test several types of low-emission vehicle technology.
Companies to test the van would be asked to provide feedback on its use.
"This technology offers the potential for Toyota to produce vehicles that meet the practical requirements of commercial customers while dramatically reducing CO2 tailpipe emissions," Mr Callachor said. 
"Running the pilot program for this new hydrogen powertrain technology builds upon our substantial development and investment in the hydrogen space."
The HiAce prototype will feature an internal combustion engine installed in the front of the vehicle and powered by three hydrogen fuel tanks located in its floor. 
The vehicle will use compressed hydrogen gas and produce some nitrogen oxide emissions caused by igniting the gas.
CPB Contractors will use the HiAce van to transport workers around Melbourne. 
Mr Callachor said Toyota's Japanese parent company had chosen Australia to test the vehicle due to its "extensive variety of environments and climactic conditions" as well as the nation's investments in hydrogen production.  
"Australia is the perfect place to run such a program, with our federal and state governments having already committed $6.3 billion in funding for hydrogen projects under the National Hydrogen Strategy," he said.
Other hydrogen vehicles tested in Australia include Toyota's Mirai sedan that is being used by Melbourne companies on long-term lease arrangements and Hyundai's NEXO SUV that was tested in Canberra. 
Australia has fewer than 10 hydrogen refuelling stations, however, which has limited use of the vehicle technology. 
There have been several significant investments in hydrogen projects in recent years, with Victoria, NSW and Queensland signing an agreement to establish a "hydrogen super highway" between the states along the Hume, Pacific and Newell highways.
The Australian Renewable Energy Agency has also invested in the HyGATE Initiative to develop pilots in hydrogen supply, and Toyota, Hyundai, Ampol and Pacific Energy last month signed an agreement to collaborate on hydrogen infrastructure in Canberra.
The hydrogen vehicle trial comes despite the growing popularity of electric cars in Australia, which made up 5.7 per cent of all new vehicle sales during October.
AAP