Aussies urged to get on board an electric ferry future
Jennifer Dudley-Nicholson |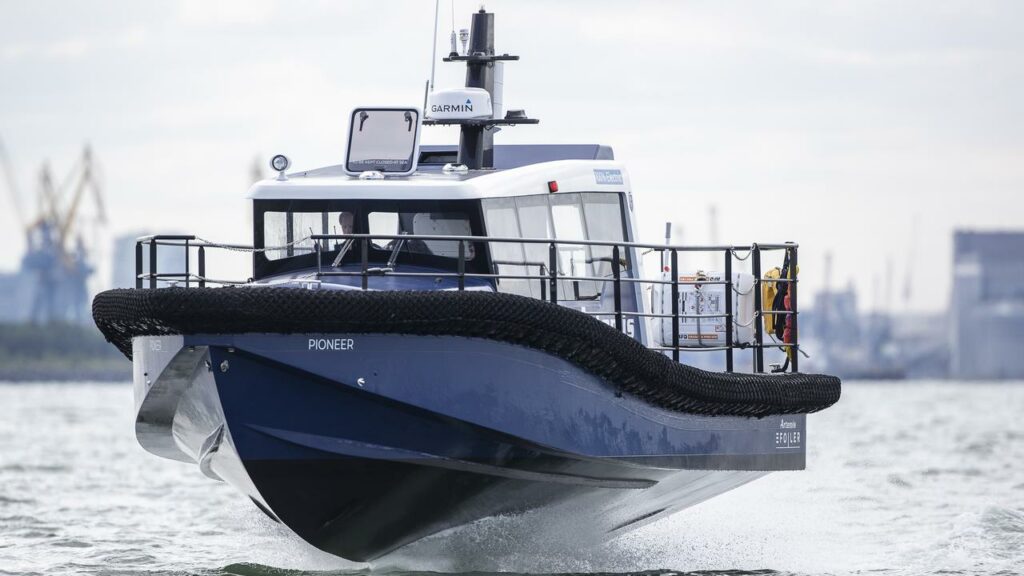 Australia could cut dangerous emissions, save costs and boost maritime travel if more transport firms and governments embraced battery-powered boats, an Olympic gold medal-winning sailor says.
Iain Percy, who co-founded Artemis Technologies as a spin-off from the America's Cup Artemis Racing team, issued the prediction while touring Australia this week, following the Interferry Conference in Tasmania. 
And the British sailor said the future of diesel-powered ferries was all but dead in the water as more countries switched to zero-emission alternatives.
His call comes after Tasmanian firm Incat revealed it was building the world's largest battery electric ship for a South American company and after a fleet of electric ferries were trialled in Sydney. 
Dr Percy, who won gold medals in sailing at the Sydney and Beijing Olympics, said Australia was particularly well placed to adopt battery-powered craft due to a long history of boat-building and maritime travel.
"Australians are used to using waterways as a mode of transport – famously so in cities like Sydney," he told AAP. 
"Our trip is about building consortia here with Australian companies to demonstrate this at a smaller scale and then providing the economics and expanding."
Dr Percy said despite advances in battery-powered boats, including electric ferries, water taxis and crew-transfer vessels, Australia had been slow to adopt the technology compared to the US and nations in Europe. 
Electric, foiling ferries, he said, could travel further than their diesel equivalents, produced no carbon emissions, required minimal infrastructure and could be cheaper to operate within two to four years depending on their use.
"Our call to action on governments, transport authorities and industry partners who are serious about the transition to net-zero carbon is to start the shift to EV maritime now and mirror the rapid shift under way in cars, trucks and the energy sector," he said.
"I'd be amazed if there was another diesel fast-ferry order of any scale again, quite frankly."
All forms of transport make up more than 18 per cent of Australia's greenhouse gas emissions and 2.4 per cent of those emissions come from domestic maritime craft.
Electric boats could play a larger role in Australia in coming years, however, after the Brisbane City Council announced a feasibility trial into battery-powered ferries and a NSW transport inquiry recommended their use last year. 
The transport can also be built in Australia as Incat Tasmania is constructing a 130-metre electric ferry for Buquebus that will transport up to 2100 passengers and 226 vehicles between Buenos Aires in Argentina and Montevideo in Uruguay. 
The aluminium craft will be powered by 400 tonnes of batteries, replacing 500 tonnes of LNG fuel tanks and related equipment. 
AAP