Swim coach jailed for 32 years over child abuse culture
Miklos Bolza |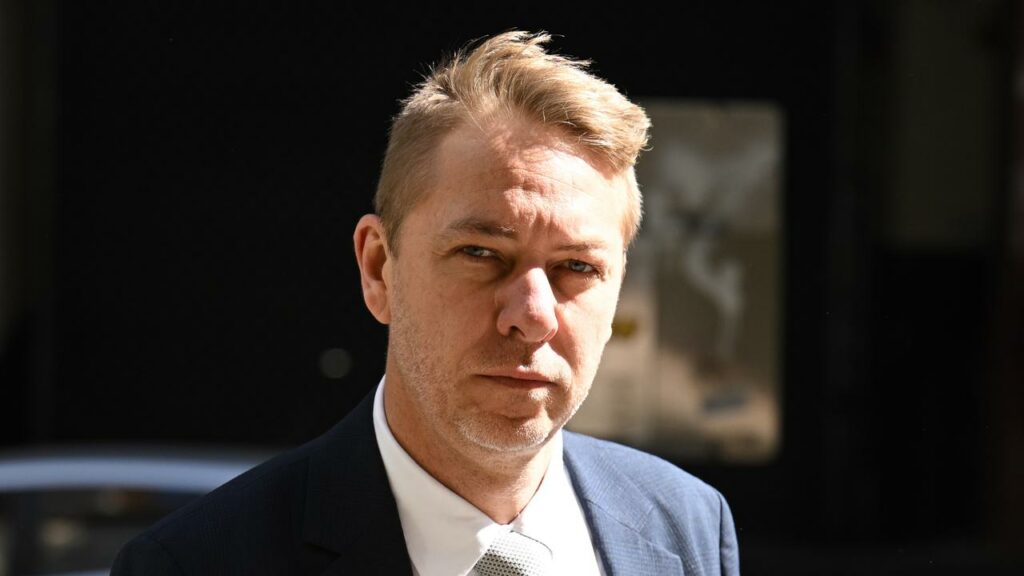 A swim coach who groomed and sexually abused 11 young students over more than a decade could spend three times that behind bars for creating a culture where perverted behaviour was seen as normal.
Paul Douglas Frost was sentenced on Thursday after being found guilty of 43 offences over the abuse of children at a swimming school in Sydney's southwest between 1996 and 2009.
As the 48-year-old watched emotionless via videolink from Shortland prison, Judge Sarah Huggett said the coach deliberately created a culture that facilitated his offending.
This included normalising talk of sex amongst those he was teaching, encouraging sexual activity both with and between students, and engaging in graphic acts in the school's changing room and storage room.
"Paul had built a culture of these types of things being normal," one of his victims wrote in a statement to the court.
"I know they seem a bit horrifying and strange now."
The victim said that as a boy he went along with discussing sexual matters openly with Frost as he wanted to be one of the "cool kids".
Frost, who was once a contestant on cooking show MasterChef, has been given a maximum jail sentence of 32 years, expiring in June, 2055.
He will be first eligible for parole in June 2047 after 24 years behind bars.
During his offending, Frost commented on one young student's "bubble butt", encouraged another to watch the sexually explicit TV show Sex Life and openly talked about the size of a boy's genitalia.
He also encouraged one student to watch pornography on his office computer and "skinny dipped" with others at the swim centre.
While working as a primary school teacher, Frost was arrested in September 2019 at his Sylvania home.
The 43 charges include several counts of sexual intercourse with a child under his care, multiple charges of aggravated indecent assault of a person under 16 and grooming children for sexual activity.
Frost manipulated his victims and contrived opportunities for him to be alone with them. 
"He moved from one victim to the next as and when he so desired and in doing so corrupted their healthy and normal sexual development," Judge Huggett said.
She found each victim was a reliable witness who gave evidence in court with "dignity and courage".
"It can only be hoped that the finalisation of the proceedings can offer some form of closure to each of the victims of these offences."
Judge Huggett found Frost had taken no steps to rehabilitate himself and that his prospects of doing so were "presently very guarded".
"The offender has not acknowledged his wrongdoing at any point during the trial process and continues to maintain his innocence," she said.
Frost is estranged from his stepfather Douglas Frost, who coached Olympian Ian Thorpe, and had experienced a "complete absence of sexual intimacy" in the last decade of marriage with his ex-wife before their divorce, the judge said.
The 48-year-old had requested protection in custody after being punched by an inmate in July and requiring surgery to a broken bone under his eye.
He has since been diagnosed with pedophilic disorder, major depressive disorder with increased risk of self-harm, and generalised anxiety disorder.
His mother Lola Frost and restaurateur John Fink, owner of the Fink Group, provided positive character references about the convicted child abuser,  calling him hard working, devoted and a "champion and a protector of young people and children of all ages".
Speaking outside court, child sexual abuse survivor and founder of the Your Reference Ain't Relevant campaign Harrison James said convicted pedophiles should be barred from using good character references to mitigate their sentence.
"Good character is actually part of the crime. It is a tool pedophiles use as a weapon amongst their arsenal of deceit in order to gain a lenient sentence," he said.
Mr James welcomed the 32-year sentence, saying he hoped it would set a precedent for others convicted of similar crimes.
1800 RESPECT (1800 737 732)
National Sexual Abuse and Redress Support Service 1800 211 028
AAP