Pumbah rounds on parliament in defence of dingoes
Tracey Ferrier |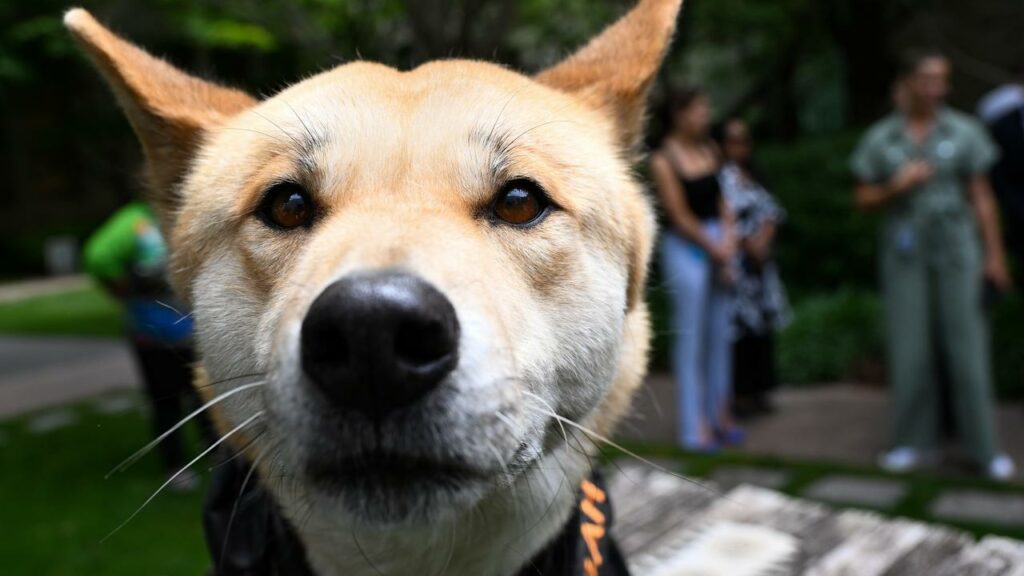 Advocates for Australia's dingo population have travelled to the nation's capital, pleading for an end to their indiscriminate slaughter.
Dingoes are Australia's apex land predators and experts say they play an outsized role in keeping ecosystems healthy and in balance.
They prey on highly destructive introduced pests including feral cats, foxes and goats, and the cascade effect of that suppression indirectly helps countless other native species.
But dingoes are also the arch enemy of livestock producers.
And that leaves them in a bizarre situation where they can be both protected under the law, but also routinely killed on farms and in national parks as part of wild dog management programs.
Defenders of the species and Pumbah the domesticated dingo gathered at Parliament House in Canberra on Thursday.
They want politicians to stand up for what they say is arguably Australia's most maligned, misunderstood and mismanaged native species – one that has immense cultural significance for First Nations people.
They've come armed with the National Indigenous Dingo Declaration, signed by more than 20 First Nations groups. 
It emphatically states: "We do not, and have never, approved the killing of dingoes. Killing dingoes is killing family. We demand an immediate stop to this 'management' across Australia."
Sonya Takau from Queensland's Girringun Aboriginal Corporation says the dingo "needs to be respected".
"It was here way before cattle and sheep. They are not an invasive species," she said.
"As far as I'm concerned the science is correct. And so is Aboriginal people's oral histories. 
"We say they've always been here with us. Western science says they've been here for 4500, 5000 years, maybe longer. They were here before white people. It's in our rock art, it's in our dances. You can't refute that."
Estimates vary but it's broadly accepted dingoes have been in Australia for roughly 5000 – as a minimum. Under federal environment laws, any species present in Australia before the year 1400 is classified as native.
But because dingoes are not considered a threatened species under those federal laws, states and territories are free to make their own decisions about how to treat them.
That's led to bizarre outcomes. 
In the Northern Territory, Queensland and Victoria, dingoes are managed as protected wildlife in national parks and conservation areas but they're unprotected on private land.
In Western Australia, South Australia, the ACT and NSW, dingoes are unprotected wildlife, meaning they get no protection, even in conservation areas.
Then there's the problematic issue of "wild dogs" as a priority pest species, meaning they can be killed on public and private land.
State definitions for wild dogs include dingoes and dingo-dog hybrids based on the notion there's been widespread interbreeding between dingoes and dogs.
But recent DNA research by the University of NSW and the University of Sydney shows dingo-dog hybrids are rare and that most wild dingoes have little to no dog ancestry.
Dingo defenders say it's a complete mess and a genetically distinct native species is being routinely trapped, shot and poisoned.
"They are subject to wholesale killing under the guise of 'wild dog' control. I am keen to educate our country's decision makers as to why this madness needs to stop," says Lyn Watson, the founder of the Australian Dingo Foundation.
First Nations representatives want the livestock industry to pivot towards non-lethal means of dealing with dingoes.
Ms Takau points to substantial evidence about the success of guardian livestock animals including donkeys and maremma sheepdogs, and other solutions including better fencing to keep dingoes away from commercial herds.
"We like to consider ourselves a very modern society. But why are we still using the same methods that have been used since colonisation?"
AAP is seeking comment from the livestock industry.
AAP