Silent reflection for the fallen on Remembrance Day
Tara Cosoleto and Alex Mitchell |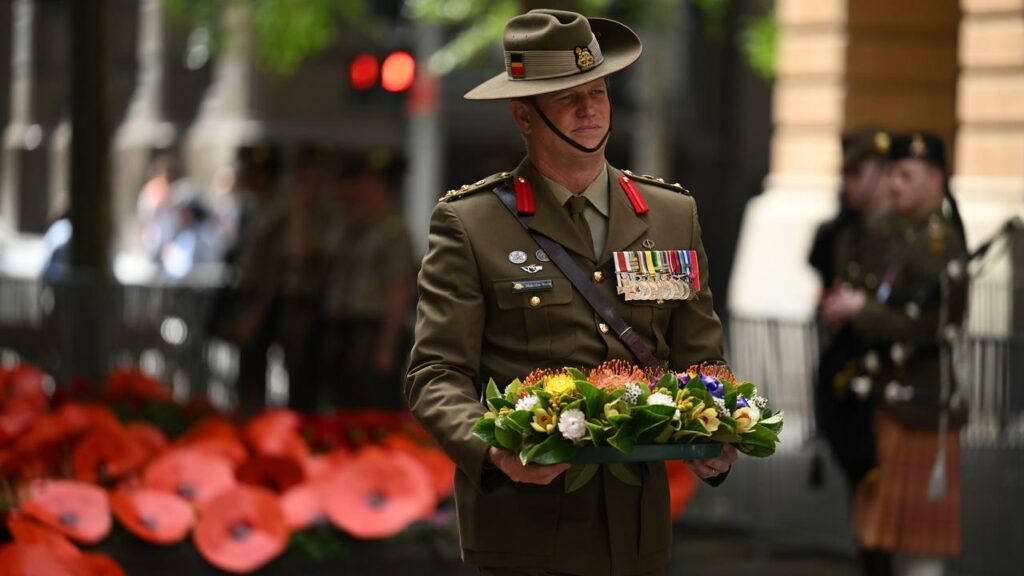 The Last Post has rung out across the Australian War Memorial as hundreds gathered to honour those who served and died for their country.
Prime Minister Anthony Albanese and Governor-General David Hurley were among those who paid Remembrance Day respects at the Saturday service.
The Canberra ceremony was one of hundreds across the country to mark 105 years since the end of World War I.
A lone bugler performed the Last Post at 11am before the attendees paused for a minute of silent reflection for the more than 100,000 Australians who have died in conflict.
"In pausing to remember, we acknowledge their sacrifice and honour their service," Council of the Australian War Memorial's Scott Bevan told the crowd.
"We acknowledge those who have gone before us and those who will follow in their footsteps. 
"In pausing to remember, we commemorate the dead and honour those wounded in war and on operations in the service of their nation, and those who suffered traumas both physical and mental."
The Australian Defence Force's Lieutenant General Natasha Fox shared the story of Australia's unknown soldier, who was first eulogised by former prime minister Paul Keating 30 years ago. 
"We did not know his identity then but as we know now, it was a moment in time that means so much to so many," she told the crowd.
"He was a son, perhaps a brother, perhaps a husband and perhaps a father. 
"He represented a nation. He represented Australia."
Mr Albanese, Mr Hurley and other dignitaries laid wreathes at the war memorial's Stone of Remembrance before joining in on the national anthem.
After the ceremony, the prime minister said it was important to recognise our fallen soldiers.
"We pause to reflect and pay thanks to all those servicemen and women who are serving our nation today but all those who have served us in the past," he told reporters.
Earlier in the day, poppies illuminated the sails of the Sydney Opera House to mark the day's start.
Victorian Governor Margaret Gardner laid a wreath at Melbourne's Shrine of Remembrance before pigeons were released from an upper balcony – a nod to the peace and love brought by the signing of the armistice in 1918.
Federal Veterans Affairs Minister Matt Keogh spent Remembrance Day in the United Kingdom with Australian soldiers training Ukrainian armed forces.
"For more than a century Australia and the United Kingdom's defence personnel have stood shoulder to shoulder in the interests of peace and stability," he said in a statement.
Halfway across the world, battlefield historian Mat McLachlan continues tracing the Anzacs' footsteps through Europe and is still learning new things about the fallen.
In the lead-in to Saturday's events, he relayed the story of Phillip "Tubby" Clayton, an Australian Army chaplain who founded a military hangout in Poperinge, Belgium that remains open to this day.
"Tubby Clayton, along with Neville Talbot, opened an 'everyman's club' which provided rest and recreation to all soldiers, regardless of their rank," he said.
The two men later expanded their charitable activities to begin the international Toc H movement.
The commemorations come across a backdrop of lessening interest among younger Australians, research revealing one in four planned to shun Remembrance Day.
Opposition veterans' affairs spokesman Barnaby Joyce implored them not to turn their backs, reminding them they would not be here without the troops.
"It is incredibly important people remember those that gave their lives, were maimed, lost their marriages, became psychologically disturbed and left their lives behind," he told AAP.
"We're asked for one minute in return … it doesn't have to be a big deal, just quietly stop and reflect."
AAP