'Hell bent' Giddey finds groove as Thunder crack Spurs
Murray Wenzel |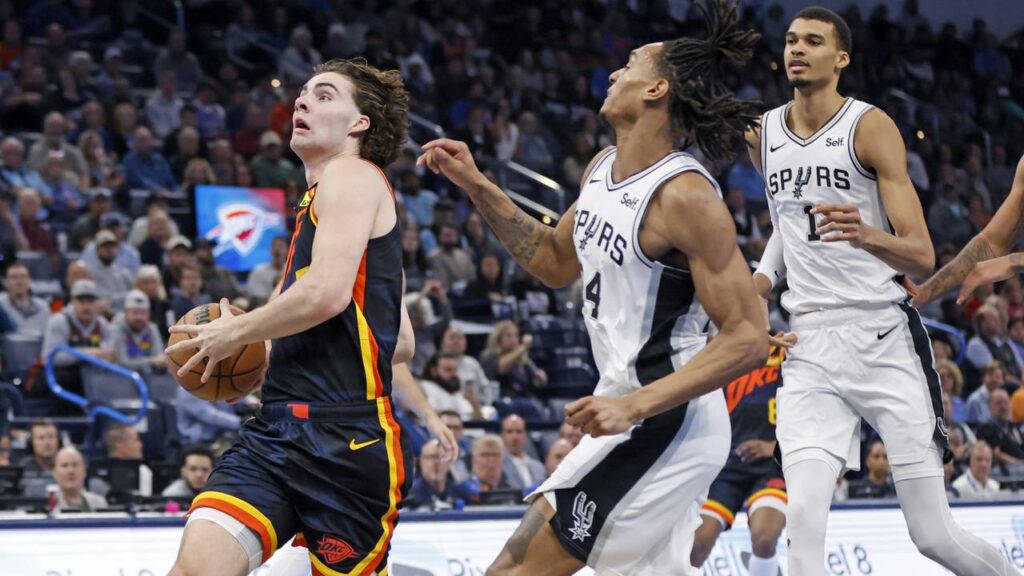 Josh Giddey has clicked into gear to turn Oklahoma City's much-hyped first date with Victor Wembanyama's San Antonio into a runaway statement NBA victory.
The Australia guard snapped out of any sort of funk he had been in beginning his third season at the Thunder, finishing with 18 points, seven rebounds, seven assists and two blocks in the 123-87 home win.
The build-up was all about Wembanyama's (eight points, 14 rebounds) first regular season match-up with Thunder star rookie Chet Holmgren (nine points, seven rebounds).
But thanks to Giddey's court smarts and Shai Gilgeous-Alexander's brilliance that hype around the clash of two towering youngsters quickly faded.
Gilgeous-Alexander scored a game-high 28 points to go with seven steals, six rebounds and six assists.
Giddey revealed post-game he had spoken to coach Mark Daigneault to address his off-colour start to the season.
"I was kind of hell bent on scoring the ball for some reason, I don't know what that was," he said.
"We found ways to address that … I'm at my best when I'm making plays and making people better around me and a by-product of that is that lanes are going to open up.
"Not forcing things, just trust in the flow of the game that things will open up and that's what I've leaned into."
The Thunder blew the game open with a 13-point run to finish the half, capped by a neat over-the-shoulder assist after Giddey had run the length of the court.
The win, built on a franchise-record 19 steals, was the Thunder's second straight and fourth in five games, improving their in-season tournament record to 1-2.
"We got the lead and put our foot down even more and eventually blew the game open," Giddey said.
"They're the kind of efforts we need. 
"When we can put a full game together we're a tough team to beat and we haven't done that a whole lot this season."
In Brooklyn, a Nets team still without the injured Ben Simmons ran down Joe Ingles' Orlando 124-104.
Ingles scored all 11 of his points in the first quarter, the Boomers veteran a perfect four-of-four from the field to spark a run that put the Magic up by seven.
He barely saw the court again though, Spencer Dinwiddie (29 points, nine assists and five rebounds) powering the hosts.
But thanks to Giddey's court smarts and Shai Gilgeous-Alexander's brilliance that hype around the two towering youngsters centres quickly faded.ded.ed.d..tersng streak by beating the stacked Dallas Mavericks 131-110.
AAP