Crows were boring in AFLW finals loss, says Marinoff
Steve Larkin |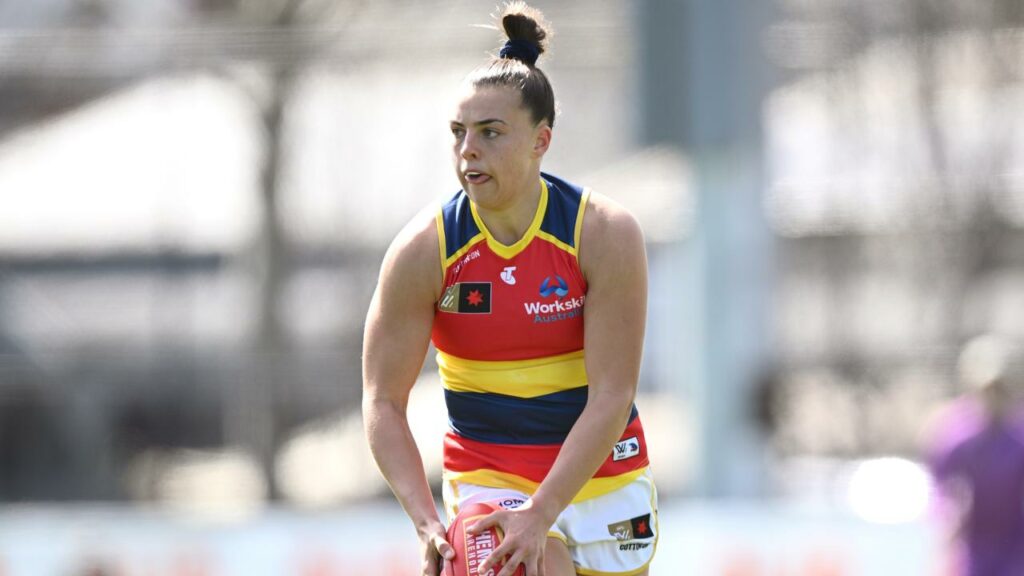 Adelaide stalwart Ebony Marinoff says her side was "boring" in their upset loss to Brisbane in an AFLW qualifying final.
The Crows slipped to a two-point defeat to the Lions which pitches the minor premiers into a sudden-death semi-final against Sydney this Saturday night.
"We're obviously bitterly disappointed," Marinoff told reporters on Monday. "We certainly feel like it's a missed opportunity.
"But in saying that, we earnt the right to have a double chance."
The Crows dominated key statistics against the Lions, with 11 more entries into their attacking 50 metre arc, 64 more disposals, and boasting the top-seven individual ball-winners on the ground.
But Marinoff said Adelaide's lack of daring ball use cost them victory.
"We probably weren't brave, we were just playing the game safe, and playing finals safe is not how it's going to be won," the five-time All Australian said.
"We need to be bold and brave and we'll look to rectify that come Saturday.
"It comes back to the way we move the footy – we were just being boring and going down the line.
"You got to change angles and break the Lions' defence.
"And when the game was on the line, they sent a few back and we had some spares back behind the ball – and we don't need to have spares at that point in time, we need to win the game."
Marinoff vowed the Crows would rapidly learn from their loss.
"It's actually a really good learning point for some of our younger girls," she said.
"We had a few girls playing their first or second final so hopefully they can learn from those moments, as can we all.
"It's good to be challenged in the first weekend of finals and have things to work on.
"As a group we're really hungry and we know we need to be at our best but … it's so exciting for the competition to have these finals, anyone can win."
Surprise packets Sydney didn't win a game last season yet stormed into this year's semi-finals with a 17-point triumph over Gold Coast in an elimination final.
AAP