Plane cartwheels in backyard trying to land
Laine Clark |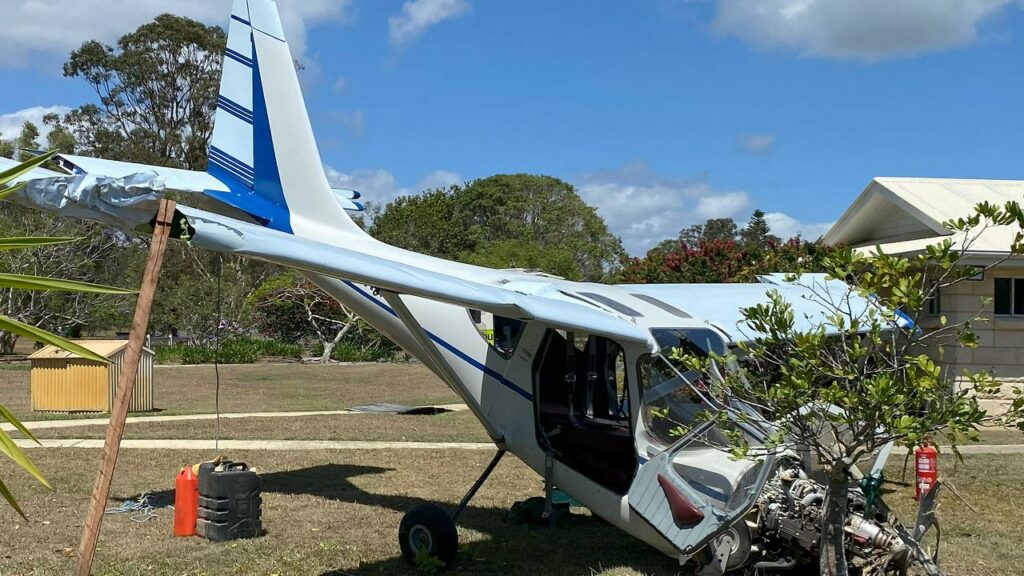 A couple are lucky to be alive after a plane "cartwheeled end to end" in a backyard when it tried to land on Queensland's Sunshine Coast.
A woman in her 50s was airlifted to hospital after the light plane flown by her husband crashed near a private airstrip at Cootharaba near Noosa on Sunday.
It is believed the husband, aged in his 40s, was trying to land at the grass airstrip when he lost control of the recreational aircraft, possibly due to an unexpected wind gust.
"The light plane was coming into land on a private airstrip and ended up somersaulting and crashing into a tree," RACQ LifeFlight rescue aircrew officer Scott Reeman said in a statement.
"It clipped a palm tree in a house yard while it was airborne and then cartwheeled end-to-end across the yard and clipped another tree."
The couple were able to get out of the plane's wreckage by the time the rescue helicopter arrived.
Mr Reeman said they were "very lucky".
"I think the lady passenger said she thought she was going to die," he told Nine Network.
The woman was airlifted to a Sunshine Coast hospital with suspected neck, chest and abdominal injuries in a stable condition.
The husband suffered minor cuts.
It was the third light aircraft incident rescue helicopters had attended on the Sunshine Coast in as many days.
Two men were winched to safety from a sinking life raft on Friday after their light plane suffered engine failure and crashed into the sea off Mooloolaba.
And a man was airlifted to hospital when he crashed his paraglider on to a beach in the Gympie region on Friday night.
AAP