Man accused of stealing two fire trucks as Qld burns
Laine Clark |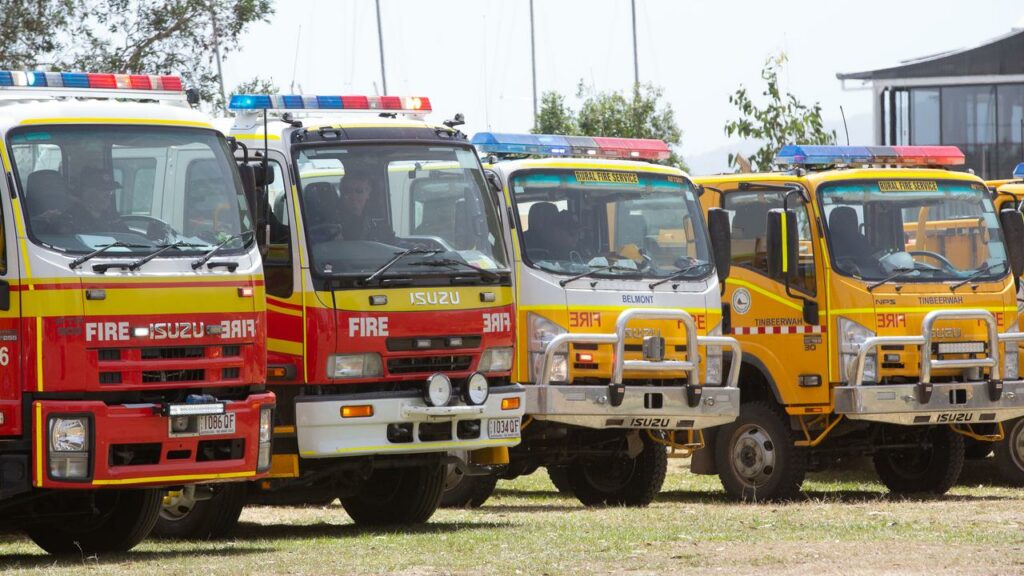 A man is accused of stealing two fire trucks within a week, while blazes were testing emergency services across Queensland.
The 22-year-old faces a string of charges after Queensland Fire and Emergency Services (QFES) said three brigades in the state's north had been targeted in the past week.
The first fire truck was stolen by the man from a Sarina station on October 31 along with other equipment, police said.
Just four days later, the man is accused of breaking into the nearby Victoria Plains brigade and taking the second vehicle.
The thefts in the Mackay region happened while fatigued firefighters were stretched to the limit battling scores of blazes in Queensland, prompting reinforcements to arrive from Victoria and New Zealand.
A ferocious fire on the Western Downs claimed one life, burned 26,000 hectares and forced almost 300 people to evacuate.
The man was arrested after the Sarina truck was found in nearby bushland on Saturday following a tip-off.
The next day police discovered emergency lights from the Victoria Plains truck hidden in a Sarina house after executing a search warrant.
Officers later went to an unoccupied property at nearby Sarina Range and found the Victoria Plains truck under a tarpaulin.
It was extensively damaged and had been covered in white house paint.
The 22-year-old man from Ilbilbie was set to appear in a Mackay court on Monday charged with a number of offences including two counts each of break and enter, stealing a vehicle and driving with a suspended licence.
QFES Acting Commissioner Steve Smith said other brigades had essential equipment stolen, including the battery from a vehicle.
The Sarina brigade is using another vehicle from the region while the Victoria Plains station is relying on its second truck to respond to emergencies following the break-ins.
"These vehicles and equipment are essential to our ability to respond to emergencies and protect the community," Acting Commissioner Smith said.
"It's beyond belief that these brigades have been targeted at a time when our volunteers are working so hard to protect their communities."
Firefighters have battled about 1000 blazes across Queensland in the past fortnight.
About 20 blazes were still burning on Monday, however showers have been forecast for fire-hit areas in central and southeast Queensland.
Hot, dry and windy conditions are set to ensure high fire danger for the Maranoa region in the southwest as well as the state's northwest this week.
Extreme high fire danger is forecast for the central west and Channel Country.
But lighter winds, showers and afternoon storms are predicted for the rest of the week for the state's central and southeast including the central highlands where crews are monitoring a Carnarvon Gorge blaze.
"Humid, stormy conditions should definitely help the fires that aren't already out," a Bureau of Meteorology spokesperson said.
The good news comes as people at Jumna Dam near Cairns in far north Queensland have been told they can return to their homes "with caution".
Meanwhile, a 32-year-old man has been charged with arson after a string of fires at a Kallangur caravan park north of Brisbane.
AAP