Nauru walkout stuns Pacific summit before landmark deal
Ben McKay |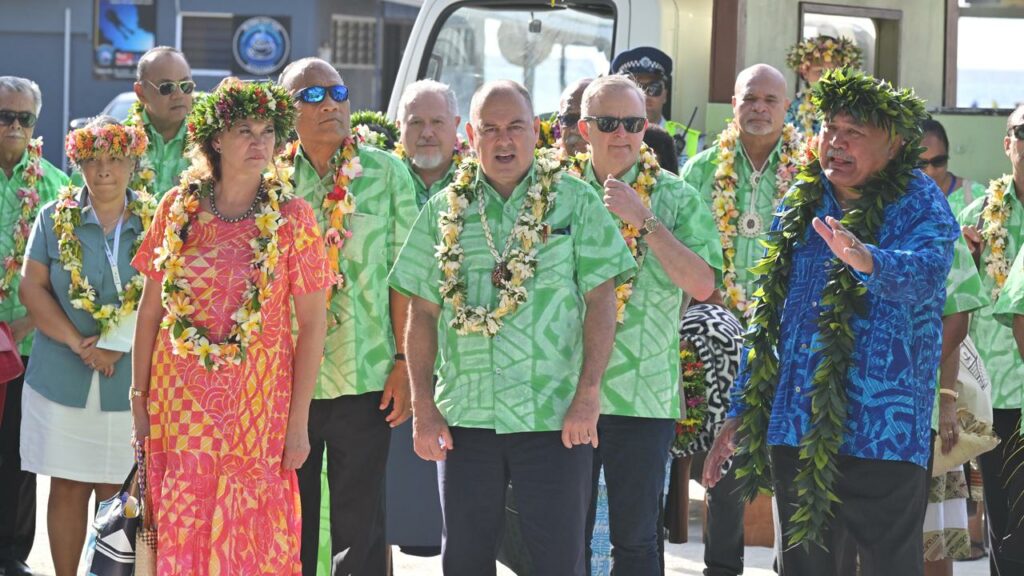 Nauru President David Adeang's walkout has rocked Pacific leaders' talks as Australia and Tuvalu announced a landmark resettlement deal.
The Pacific Islands Forum (PIF) leaders meeting reached their crescendo on the remote island of Aitutaki on Thursday (AEDT) without Nauru.
"They're not here and they have their reasons," Palau President Surangel Whipps Jr said.
The Micronesian state walked out of a plenary meeting when their controversial choice to be the next Pacific Islands Forum (PIF) secretary general, Baron Waqa, was raised.
Attempts to coax Mr Adeang back inside the tent failed and the Nauru delegation flew out from the Cook Islands on Friday morning, as reported by TVNZ.
Mr Adeang and Mr Waqa left together in a privately chartered flight ahead of their scheduled departure.
The abrupt exit raised the prospect of another nasty rift in the forum, but Mr Adeang doused those fears by telling TVNZ he would be back.
Last year, another Micronesian nation – Kiribati – announced it had left the 18-nation body, returning only after peace talks yielded significant concessions to Micronesia.
One part of the deal was the right to pick the next PIF secretary general, Mr Waqa.
Mr Adeang and Mr Waqa are reportedly linked to an Australian Federal Police corruption probe into a phosphate dealer Getax, with the ABC reporting the pair took funding from the company.
The pair were instrumental in sacking the country's judiciary, who were Australian, in 2014, and have repeatedly restricted media freedom in their country, leading critics to call Mr Waqa unfit to lead the forum.
Current PIF secretary general Henry Puna said this year's leaders retreat "reaffirmed" Mr Waqa would lead the organisation.
Residents of the climate change-affected South Pacific nation of Tuvalu will meanwhile be offered a pathway to come to Australia.
Prime Minister Anthony Albanese announced the deal to take in 280 Tuvaluans a year on Friday.
Tuvalu is made up of nine low-lying islands and is one of the countries in the world most at risk from climate change and rising sea waters.
It has more than 11,000 citizens.
Mr Albanese and other PIF leaders have declined to comment on Mr Waqa's appropriateness to serve as secretary general, which signals they are prioritising regional unity.
Mr Albanese said he didn't see Nauru's walkout and PIF appeared unified to him.
The Australian prime minister spent the day on a boat on Aitutaki's luminescent lagoon, discussing the region's issues in private with other leaders.
A proposal from Fiji Prime Minister Sitiveni Rabuka to re-badge the Pacific as a "zone of peace" was successful, with leaders resolving to confirm the issue by next year's leaders meeting – which will be in Tonga. 
"I've got a good supporter, prime minister Albanese," Mr Rabuka said on Friday.
On the divisive issue of Japan's release of treated wastewater from the Fukushima nuclear power plant, PIF members appeared unmoved by a a report by the UN's nuclear watchdog that it was safe.
"Leaders recalled the strong concerns by our forum leaders for the significance for potential threats of contamination to the health and security of the Blue Pacific," PIF chair Mark Brown said.
The PIF summit was already hit by the non-attendance of leaders from four of the biggest six members: New Zealand, Papua New Guinea, Solomon Islands and Vanuatu, which sent ministers.
Mr Rabuka said it was a shame Mr Adeang decided not to travel to Aitutaki.
"They should have been here," he said.
Mr Whipps Jr said Nauru's Micronesian colleagues would pick up the slack.
"They said, 'You represent us', so we're here as Micronesia," he said, suggesting the rift could be mended.
"Maybe just a misunderstanding, but we'll get through it."
AAP