PM faces climate talks heat from Pacific neighbours
Ben McKay |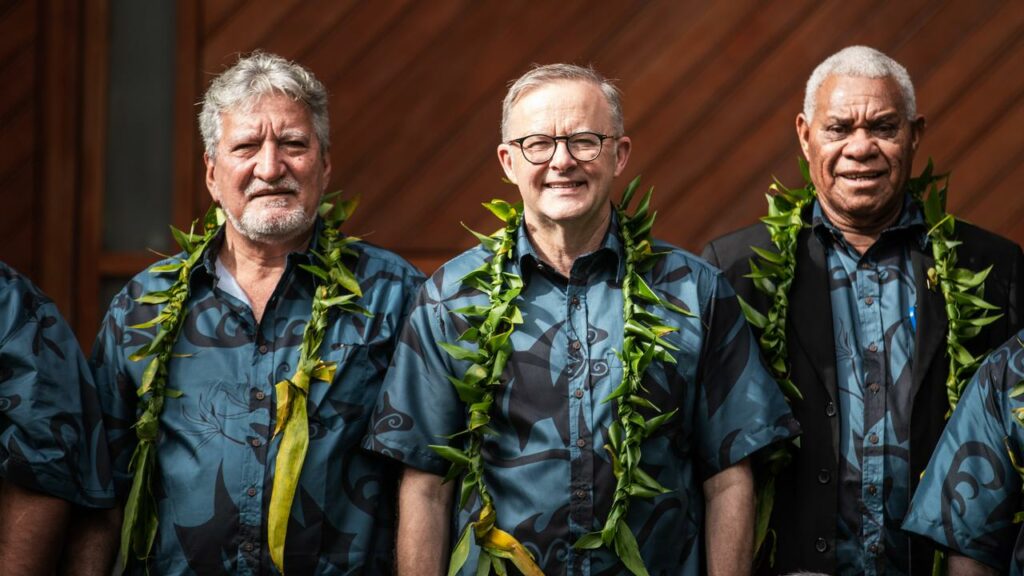 Australia's improved relations in the Pacific under Anthony Albanese will be put to the test at the Pacific Islands Forum leaders meeting.
The prime minister swaps China for the Cook Islands on Wednesday, where he will meet with leaders of the 18-nation organisation on a three-day visit.
The centrepiece of the trip is a whole-day retreat when leaders gather without advisors to thrash out issues, an unpredictable and old-school forum that gives powerhouses Australia and New Zealand the same standing as Pacific Islands Forum (PIF) minnows.
Near the top of the agenda are two issues likely to pit Canberra against the region – climate change and AUKUS.
Climate change is central to Pacific ambitions, galvanising governments and NGOs to extract concessions from bigger economies to reduce their emissions.
"We really want to see some strong outcomes in terms of language around a fossil fuel phase out," Lavetanalagi Seru, the Fiji-based regional coordinator for the Pacific Islands Climate Action Network, told AAP.
"Both Australia and New Zealand, they are both fossil fuel-producing countries in the region. We would like to see high ambition from them."
Mr Albanese will find the mood amongst Pacific leaders is likely to have turned from last year's summit.
When the Labor leader attended his first PIF meeting in Fiji last year he was less than two months into the job and given a warm reception largely for not being Scott Morrison.
Mr Morrison was loathed by many in the region, lambasted at the 2019 PIF summit for his inability to accept a communique which asked Australia to reduce its climate footprint.
Fijian Prime Minister Frank Bainimarama said Mr Morrison was "very insulting, very condescending" during "one of the most frustrating days" of his life.
PIF chair and host Tuvalu Prime Minister Enele Sopoaga said Mr Morrison was "concerned about saving your economy" while he was "concerned about saving my people in Tuvalu".
Mr Sopoaga has since been replaced by Kause Natano as Tuvalu's leader, who is likely to push Australia just as hard at this meeting, along with Vanuatu and other signatories of the "Port Vila Call".
The Port Vila Call has been signed by four other Pacific nations – Tonga, Fiji, Niue and Solomon Islands – who want commitments from developed nations such as Australia to phase out fossil fuels.
Auimatagi Joe Moeono-Kolio, the Pacific director of the Fossil Fuel Non-Proliferation Treaty Initiative, said expectations were in check.
"The bar is so low. I mean, he's not Scott Morrison, but he's not much better in terms of his support for the islands," he told AAP.
"As is the Pacific way, we extended Anthony Albanese grace last year … this year we want to see some substance."
Mr Albanese also might feel the heat on his AUKUS ambitions, which will equip Australia  with nuclear-powered submarines in a region which is proudly and stridently anti-nuclear.
All PIF members – bar former US colonies Micronesia, Marshall Islands and Palau – are signatories to the Treaty of Rarotonga which bans the possession of nuclear weapons in their territory.
Many of those nations see nuclear-powered submarines as violating the spirit of the agreement, which Australia is also party to.
Leaders of the Cook Islands, Vanuatu, the Solomon Islands and Tuvalu have voiced concerns at AUKUS, though it remains to be seen how highly those leaders will escalate those concerns.
AAP