Breakthrough in New Zealand government formation talks
Ben McKay |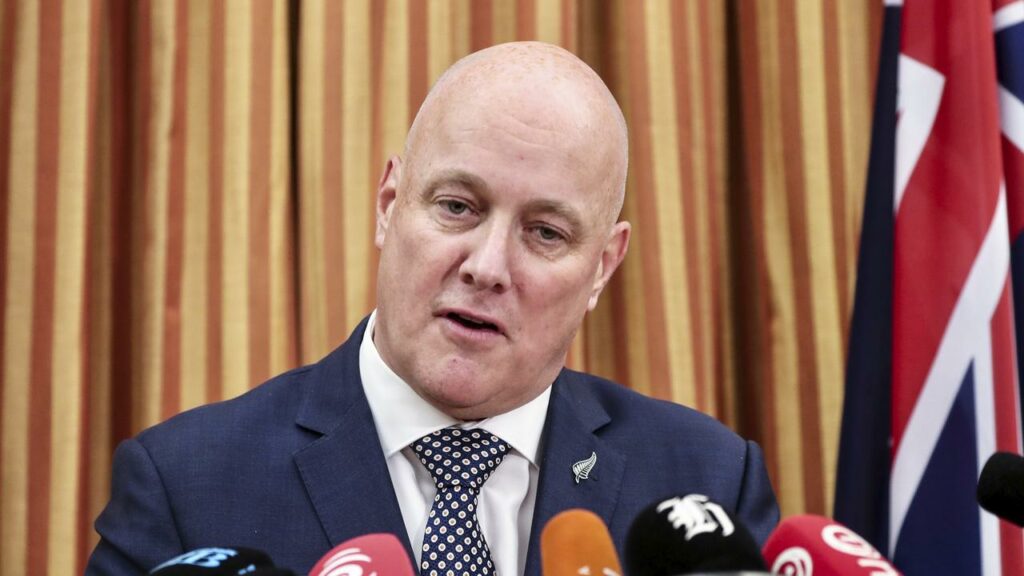 In a major step towards forming a government, incoming New Zealand prime minister Chris Luxon has announced his National party has reached policy deals with minor parties and is moving on to discuss ministerial posts.
National has been negotiating with the right-wing libertarian ACT party and populist NZ First party since last month's election.
The support of the two minor parties is crucial for National to secure a parliamentary majority and to form a government.
On Monday, Mr Luxon told journalists outside Auckland's Cordis Hotel he had finalised individual deals with the two parties.
"We have actually closed out and agreed our policy programs with both ACT and also with New Zealand First," he said.
"That's a major achievement."
The parties are working towards a first in NZ politics – a formal, three-way coalition government with cabinet representation from all three parties.
Mr Luxon said the talks had taken more than a month as parties went "line by line" through their various policy pledges and manifestos.
There was alignment between the three on many policies but they have clashed and made concessions on others.
"All three parties have had to make trade-offs along the way that will be revealed when we make our final announcements," Mr Luxon said.
The parties have also had to overlook campaign hostilities.
Both Mr Luxon and ACT leader David Seymour argued vociferously against voting for Winston Peters' NZ First party during the election.
When final results showed Mr Peters' party would be needed to form a majority government, both reluctantly accepted the need to work with the 78-year-old veteran.
"We've brought together three who have been competitors, sometimes fierce competitors, at the election," Mr Seymour told breakfast television show AM.
"Fierce competitors during the election, constructive co-operators in a cabinet. 
"That's quite a transition."
Speaking after Mr Luxon's announcement, Mr Peters showed the awkward transition in effect when he told reporters it was "an assumption" a policy deal had been done.
Mr Seymour also signalled surprise with Mr Luxon's announcement.
"I suspect Chris got up and had one too many Weet-Bix but I can understand his enthusiasm," he told TVNZ.
"There's just a couple more steps to go."
ACT and NZ First will compare their deals and flag any final issues before an overall agreement is struck.
Their party boards also need to tick off their deals.
Mr Luxon said he did not anticipate any major issues as the parties had been keeping each other in the loop in recent weeks.
The former Air New Zealand chief executive declared himself "very relieved" to have the policy discussions done.
"We want to kick on and move on into ministerial responsibilities and cabinet positions," he said.
"I don't think that needs to take a long time.
"There is very good intention from all three party leaders to resolve this as quickly as possible."
Mr Luxon also acknowledged growing impatience among New Zealanders for a deal to be done, with the talks taking longer than any post-election negotiations since 1996.
"I really do appreciate everybody's patience with the process but I do believe it'll actually make for a much stronger government," he said.
"We are in this together – and it's important that we can actually support each other's policy."
As of Monday, it has been 37 days since the October 14 election.
The outgoing Labour administration has functioned as a caretaker government since then.
National won 38.1 per cent of the vote at the poll, compared with ACT on 8.6 per cent and NZ First on 6.1.
Translated into seats in parliament, National will have 48 MPs, ACT will have 11 and NZ First eight, combining for 67 MPs.
Either National or NZ First's caucus will grow by one after the Port Waikato by-election on Saturday, which confirms the make-up of the 123-seat parliament.
AAP