Forestry Corporation hit with stop work order over dens
Tracey Ferrier |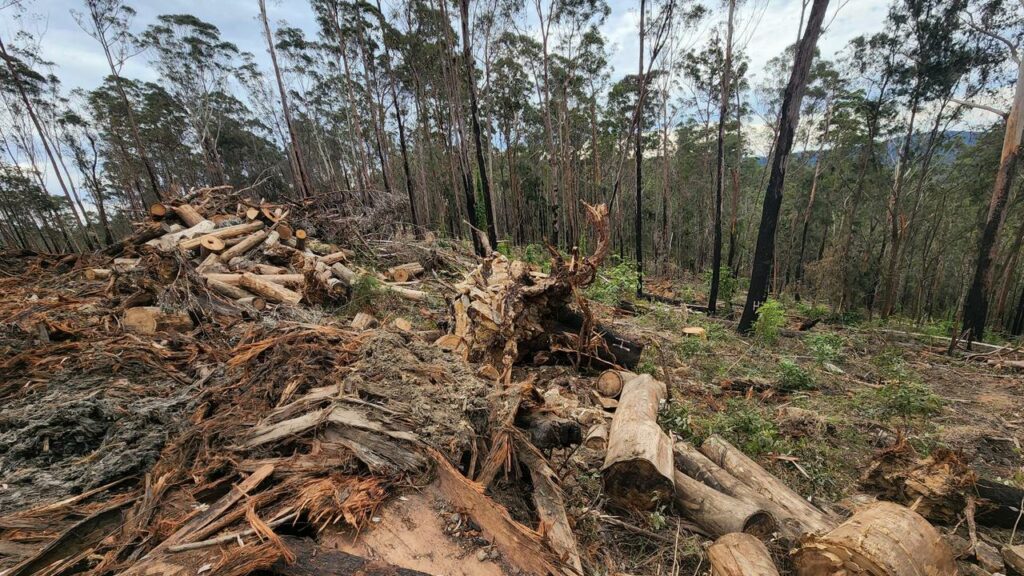 Logging has been shut down in a second NSW forest amid claims the Forestry Corporation failed to properly look for den trees an endangered glider needs to survive.
The Environment Protection Authority has ordered the state-owned corporation to immediately halt harvesting work in parts of the Flat Rock State Forest near Ulladulla.
The watchdog has accused the corporation of failing to conduct detailed, thorough searches for den trees used by endangered southern greater gliders, as well as vulnerable yellow-bellied gliders.
It's the second time the Forestry Corporation has been accused of incompetently conducting habitat searches in recent months.
Harvesting has also been shut down in the Tallaganda State Forest, southeast of Canberra, after the EPA found multiple den trees in an area where the Forestry Corporation said there was only one.
The corporation later admitted it looked for den trees during the day when nocturnal greater gliders would have been asleep.
EPA officers went to Flat Rock this week after receiving a complaint from conservationists who went to the area to do a den tree search.
Members of South East Forest Rescue said no den trees were recorded by the Forestry Corporation but they spotted a greater glider leaving what appeared to be a hollow-bearing den tree on Sunday night.
When the EPA officers arrived on Monday, they also identified what appeared to be a greater glider den tree within 30 metres of logging.
"The EPA alleges that FCNSW has not conducted detailed and thorough searches necessary to identify all Greater Glider and Yellow-Bellied Glider den trees within the Flat Rock State Forest compartment," the watchdog said on Tuesday.
The EPA also said the Forestry Corporation had identified 137 glider sap feed trees, making it likely a family of yellow-bellied gliders was active in the area.
"Yet no den trees were identified," it said.
"Den trees and their surrounding habitat are critical for the gliders' feeding and movement and removal of habitat removes shelter and food, making the gliders vulnerable to harm."
AAP has sought comment from the Forestry Corporation.
South East Forest Rescue staged a protest Flat Rock on Monday, after discovering the den tree.
"Again, conservationists have shown the absurdity of the Forestry Corporation looking for nocturnal species during the day," spokesman Scott Daines says.
Kita Ashman is a threatened species ecologist with WWF Australia and says there are alarming similarities between Flat Rock and Tallaganda, where conservationists also identified unlogged den trees.
"In both cases it's been left to citizen scientists to record greater glider den trees. A deeply disturbing pattern of behaviour is emerging that cannot be allowed to continue."
Greens MP Sue Higginson says it's time for the NSW government to step in.
"It is clear that Forestry Corporation are either wilfully disregarding their legal obligations to operate consistently with their approvals or they are too incompetent to adequately conduct operations in a lawful way," she said.
AAP